Wix, Squarespace or WordPress: Finding the right
Platform for your Business
For small business start-ups, the platform upon which you choose to build your website can make or break you. With so many options to choose from, it is important to be informed that even though Wix, Squarespace, and WordPress may look similar on the surface, they are certainly not created equal. Your marketing goal isn't to find the easiest platform to use – it is to determine which platform is going to look great, be mobile friendly, and drive phone calls directly to your business.
Wix
While Wix is fairly simple to use, you should be sure you are happy with the template you choose from the very beginning, because once your site is live it can't be changed. Though Wix has made considerable improvements in SEO over the last two years, there are still remaining problems that fail to provide optimal results.
Wix will automatically change the text of images or files that once contained important keywords into a useless string of jumbled characters – causing your site to potentially lose SEO value. In addition, Wix uses lengthy Javascript coding which can cause the site to have slower loading speeds compared to platforms such as Squarespace or WordPress. Though a slightly slower load time may not seem like a big deal, it can hurt the visibility of your website on a search engine in the long run.
When it comes to content, Wix really falls short. Although they let you use H1-H6 headings on website pages, they only offer H1 and H2 headings on blog posts. This will cause the content in your blog posts to lose search engine value. In order to optimize the content and keywords on your site, blog posts should be equipped with H1-H6 headings.
Squarespace
Squarespace is SEO friendly to users who are well versed on SEO practices. If you are knowledgeable about how to customize and set up your site, you will have no problems with making your Squarespace site visible on Google. On the other hand, if you are new to this whole digital marketing thing, Squarespace might cause your site to fall behind in terms of search results.
The SEO features that Squarespace does have are quite basic, which may cause your business to rely heavily on off-site marketing. You shouldn't have to rely on pricey ad placement and social media management to make your website well known. Since most people use the internet to find their services today, you will want to choose a platform that is better equipped to suit your marketing needs.
WordPress
WordPress is not only easy to use, but it has nearly any function or add-on you could possibly need to make your website top-notch. It has SEO benefits starting from the very moment you pick your template, as many of their themes are already optimized for search engine indexing. However, there are some WordPress themes that are not great for SEO because they use Javascript coding. To make sure you choose the right one, reach out to us here at Shockey SEO to help you decide which theme will make customers choose you over the competition.
If you are using the right theme, sites built using this platform generally load three times faster on a desktop and twice as fast on a mobile device as do sites built using Wix. They also offer H1-H6 headings on everything, including blog posts, making it easy to optimize the keywords and content anywhere on your site.
WordPress features several free plugins like Yoast, which allows users to optimize the technical components of their site to boost SEO value. Yoast will help do the SEO for you by allowing you to see how readable and effective your content and keyword placement is. The free and paid plugins available on WordPress give beginners the opportunity to build a website that will drive consumers directly to your business without requiring much prior training or knowledge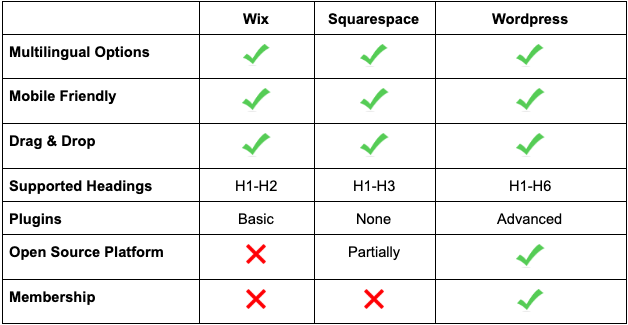 Our experienced web developers here at Shockey SEO can help guide you to the website platform that will best meet your needs for your business. Give us a shout below to let us help you drive phone calls and money to your business today!